:: I just bought new plug-ins to my UAD-2 SoloLaptop, a state of the art equipment dedicated solely to audio plug-in processing.
The mix of 'Ready to Go' featured this amazing tape echo EP-34 on Gabi's vocals. The first tests I did with the plug-in really sounded something else, not the usual Logic's Tape Delay, with a vintage sound as faithful to the real deal as it gets. Then I thought: I need to get that into all my mixes.. Well cool, but unfortunately it's a bit heavy on the processor, so you have to cut down on freezes or by bouncing off tracks with the effect printed in. But the sound is so good that it pays the effort – it breathes life into the mixes, warm tones, beautiful tape saturation and analog distortion emulations.  And in fact, we should never give up to cpu limitations and get ourselves lazy, it's good enough that we don't have to patch cables all over the place.
The Universal Audio guys say:
One need only listen to classic recordings from Jimmy Page, Brian May, Chick Corea, Eddie Van Halen, Eric Johnson and Andy Summers to hear the Echoplex sound in action. Unlike other Echoplex emulations, the EP-34 is the first plug-in that targets specific behaviors of both the EP-3 and EP-4 Echoplexes.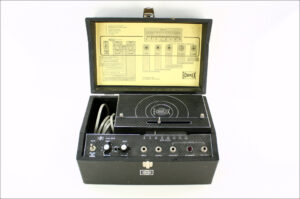 On top of that I also invested on a Neve RS88 Channel Strip. Since the full operation of the channel strip made since musically to me, I couldn't think of anything else to buy then a good one of them. What the UAD guys say about it in their website goes:
In 2001, Neve launched the 88 Series: A new, large-format analog console that represented the best of all Neve designs that came before it. Considered the ultimate console for modern features and reliability, it is also heralded as one of the best-sounding consoles ever made by veterans of both the audio and film communities. The 88RS has found a home in some of the finest rooms and scoring stages around the world, including Ocean Way, Abbey Road, AIR, The Village, Sony Pictures, 20th Century Fox and Skywalker Sound.
Well.. That and some other classic equipments like the  classic compressor Fairchild 670, heavily used on The Beatles' recordings (to say the least); also the Pultec equalizers and some other effects are available now for my mixes. State of the art machinery with truly high quality sounds.
I'm up for it..